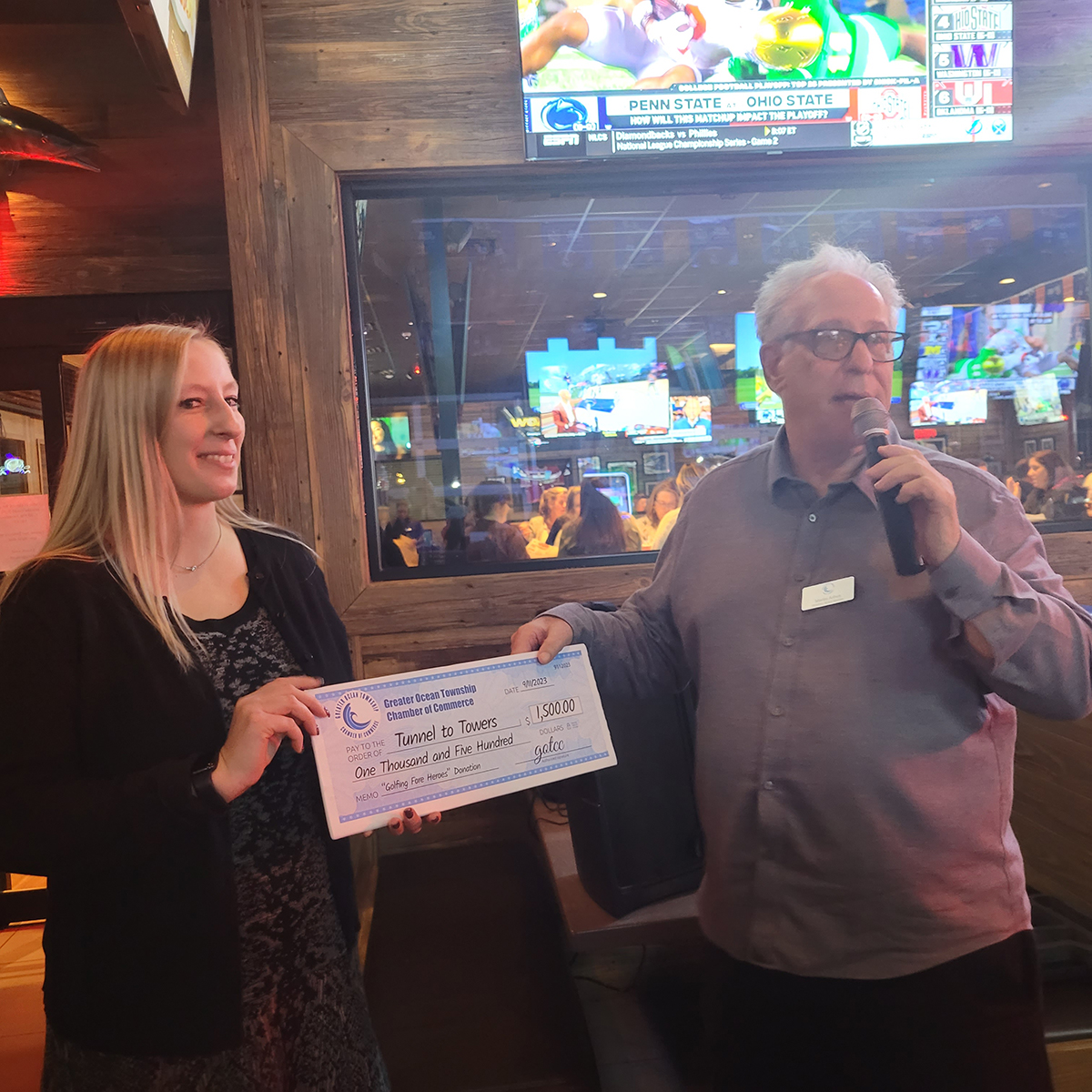 GOTCC Supports Tunnel to Towers Foundation with $1,500 Donation At Monthly Networking Event
Ocean Township, NJ – Greater Ocean Township Chamber of Commerce (GOTCC) demonstrated its unwavering commitment to supporting our nation's heroes by donating $1,500 to the Stephen Siller Tunnel to Towers Foundation during its monthly networking event Tuesday night at Miller's Ale House in Ocean. 
Marty Arbus, Co-Chairman of the Golf Committee, and David Kolakowski, GOTTC Board President, had the honor of presenting the donation to Ashley DiRobbio, an Associate of the National Golf Series, who accepted the funds on behalf of the foundation.
This remarkable donation was made possible through the proceeds raised at the Ansell Grimm & Aaron, PC 'Golfing Fore Heroes' event that took place at the Jumping Brook Country Club, Neptune hosted by the Greater Ocean Township Chamber of Commerce (GOTCC) on Monday, September 11, 2023.
In addition to this contribution, GOTCC has announced it will be making further donations to local first responders, the Township of Ocean Police Department, and the Asbury Park, Oakhurst, and Wanamassa Fire Departments.
The monthly networking event attendees, not only witnessed the noble donation, but also sampled some signature Miller's Ale House appetizers that fostered valuable networking opportunities among guests. The event also included a drawing where attendees had the opportunity to win a $50 gift card to Miller's Ale House.
About The Greater Ocean Township Chamber of Commerce: For almost four decades, the Greater Ocean Township Chamber of Commerce (GOTCC), a member-based non-profit organization has promoted the business community in the Township of Ocean and the surrounding towns; and given back to the community through a variety of outreach programs.
About the Tunnel to Towers Foundation Born from the tragedy of 9/11, the Tunnel to Towers Foundation carries out its mission to "do good," by providing mortgage-free homes to Gold Star and fallen first responder families with young children and by building specially adapted smart homes for catastrophically injured veterans and first responders. Tunnel to Towers is also committed to eradicating veteran homelessness and helping America Never Forget September 11, 2001. Visit T2T.org to learn more and follow Tunnel to Towers on Facebook, Twitter, and Instagram.
Images from the GOTCC October 2023 Networking Event at Miller's Ale House