Wine, Chocolate & More! Event Draws Huge Crowd!  
Allenhurst, NJ – The wine was flowing, the beers were chilling, and the food, chocolates and sweets were abundant as the Greater Ocean Township Chamber of Commerce celebrated the return of the Wine, Chocolate & More! event at the nostalgic Shore Antique Center Thursday, April 20.
Along with a great selection of sandwiches, salads, fruits and cheeses from Wegmans the event featured delicious trays of homemade ravioli, antipasto platters and Italian dessert specialties provided by Pastosa Ravioli of Eatontown. 
Decadent chocolates donated by The Caramel Shop, Criterion Chocolates and Lindt were a great pairing for the wine tastings provided by Valenzano, Amour Gevene, Winc, Save Rite, Allenhurst Fine Wine & Spirits and Cobblestone Wine & Spirits. 
Local breweries, Little Dog Brewing, Belford Brewing and ICARUS were also on hand to showcase some flavorful and high-quality craft beers. And Matt from Smootch introduced us to a new sports drink.  
Additional mouthwatering desserts were provided by Nothing Bundt Cakes, Shore Cake Supply and River Street Sweets.
The night was about more than just sipping, sampling and listening to great music by local singer-songwriter Stringbean. It was also an opportunity to network with the local community, learn more about the Chamber, eat and drink while benefiting the Community Hope Fund and GOTCC Scholarship Program. 
"We were very excited to again host the Wine, Chocolate & More! event", said Rose O'Connor Myer, Owner, Shore Antique Center.  "While we love supporting the Chamber and Community Hope Fund, it is also a great opportunity to introduce this unique venue to people who might not have come through our doors. The Shore Antique Center is the perfect backdrop for meeting new connections while exploring and browsing vintage collectables and rare antiques."
GOTCC is grateful for our corporate sponsors Manasquan Bank, Monmouth Medical Center, Family First Urgent Care and Encompass Health for their annual support. Also sponsoring this event is The Coaster, Press Communications and Wegmans.
For almost four decades, the Greater Ocean Township Chamber of Commerce (GOTCC), a member-based non-profit organization has promoted the business community in the Township of Ocean and surrounding counties in NJ; and given back to the community through a variety of outreach programs.
For additional information or to join the Chamber of Commerce, contact Regina Longo at gotcc@gotcc.org or call 732-660-1888.
# # #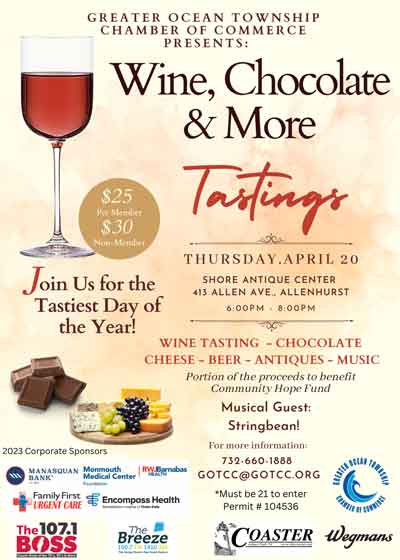 Our Next Event
Join Us for the Tastiest Day of the Year!
GOTCC Presents: 
2023 Wine, Chocolate & More Tastings*
Wine | Chocolate | Beer | Cheese | Antiques | Music & Much More! 
Membership Drive and Benefit for Community Hope Fund! Vendors Needed! Showcase your specialties to this target audience!
Call for details at 732-660-1888
*Must be 21 or older to attend
Permit # 104536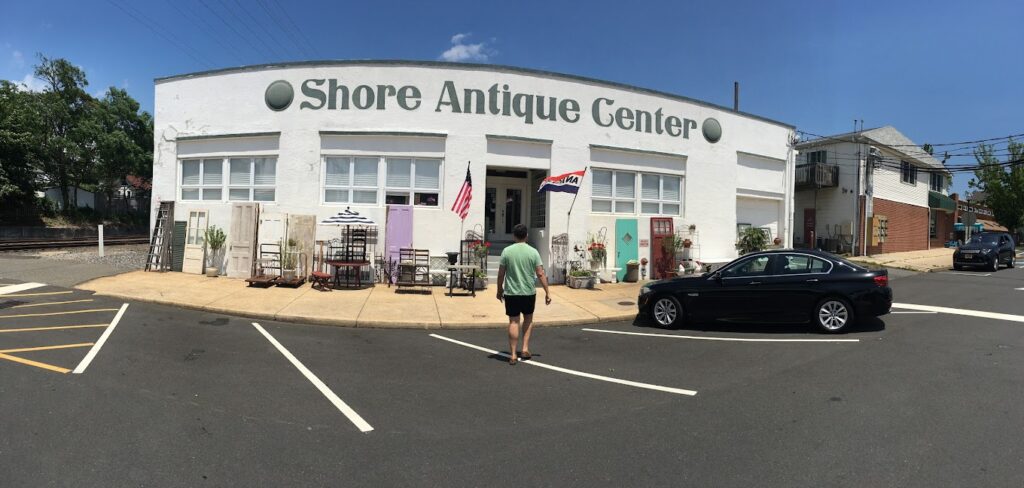 Become a Member
The Greater Ocean Township Chamber of Commerce does more than help grow your business. It's also a great way to help strengthen and give back to your community.  It's fast and easy to become a member and it's completely affordable for most businesses.
Please Support Our Corporate Sponsors – Click Logos to Visit their Websites!