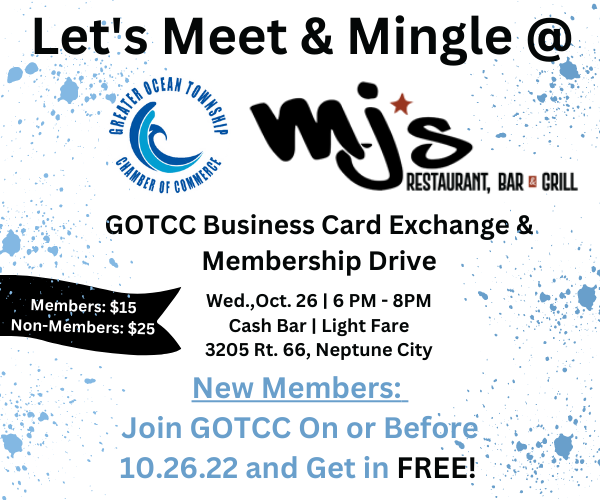 GOTCC -The GREATER Chamber
To Host Membership Drive Networking Event at MJ's!
Neptune, NJ – The GOTCC will be hosting a Membership Drive Networking Event at Mj's Restaurant Bar & Grill on Rt. 66 in Neptune, on Wednesday, Oct. 26th starting at 6 pm.
This promises to be a great networking opportunity for new and existing members. Our guests will be treated to appetizers and pizza as well as a cash bar with happy hour specials and the opportunity to mix and mingle with local businesses and potential clients.
Members will pay just $15, non-members, $25. All new members joining GOTCC on or before October 26 will get in FREE.
New membership perks now include banner ads on our updated website, free 1 2 1 business consultation sessions, discount prices on events like this, and much more!
Another perk! Join GOTCC in October and get 14 months for the price of 12! GOTCC – The GREATER Chamber is the best value in local business networking organizations. Memberships starting at just $100. Join now and your dues will be paid until 2024!
For more information visit Gotcc.org "Become a Member" or call Regina Longo, Executive Director at 732-660-1888 or email [email protected].