GOTCC Scholarship Chairmen, John 'Doc' Amato (far left) and Councilman Rob Acerra (far right) awarded scholarships to local high school seniors (L TO R): Noah Rediker, Nora Abdelaziz, Glenn Johnson Jr., Victoria 'Tori' Lee, and Carmela Bertini.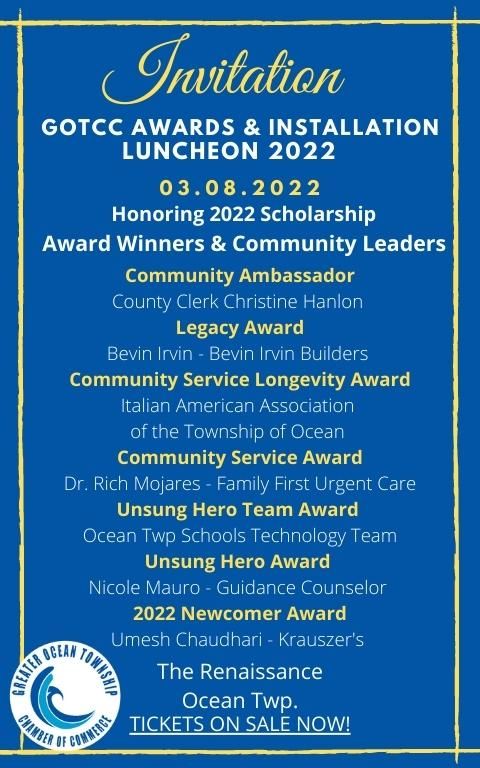 GREATER OCEAN TOWNSHIP CHAMBER OF COMMERCE CELEBRATES COMMUNITY, SERVICE AND SUCCESS!
Ocean Township, NJ – The Greater Ocean Township Chamber of Commerce (GOTCC) held its Annual Awards & Installation Luncheon on Tuesday, March 8 at The Renaissance, Ocean Township.
Five local students and seven community leaders were acknowledged for their achievements and contributions to the Greater Ocean Township Community.
High school seniors, Noah Rediker, Nora Abdelaziz, Glenn Johnson Jr., Victoria 'Tori' Lee, and Carmela Bertini were the 2022 recipients of the GOTCC scholarships.
This year's GOTCC Community Ambassador Award went to County Clerk, Christine Hanlon for her efforts on behalf of local businesses and the citizens of the Greater Ocean Township community as well as her history of service to the GOTCC.
GOTCC C also recognized Bevin Irvin with the Legacy Award and The Italian American Association of the Township of Ocean (IAATO) with the Community Service Longevity Award for their decades of service to the community.
Dr. Richard Mojares and his team at Family First Urgent Care were acknowledged for Outstanding Community Service for the dedication, compassion, and resilience of the doctors, nurses, and staff – our frontline heroes during the COVID-19 crisis. 
Tribute was also paid to Michael Hall and the Ocean Schools Technology Team for their COVID response throughout the district. They were awarded the Unsung Hero Team Award.
Nicole Mauro, Guidance Counselor at Ocean Township High School received accolades as the Unsung Hero for her efforts in helping the senior class with their college and scholarship applications.
The Newcomer of the Year Award was granted to Umesh Chaudhari and Jeevan Singh, new members of the GOTCC, and owners of Krauszers for the beautiful renovations to the Deal Road location.
Please Support Our Corporate Sponsors – Click Logos to Visit their Websites!